Shonette's Bookshelf
Winner Takes All
Author: Shonette Charles
​


$14.95 (signed copy w/inscription)

COMING SOON

GAME ON
Author: Shonette Charles
​


$14.95 (signed copy w/inscription)


NAIL IT:
​Breaking into the Black Elite
Author: Shonette Charles

$14.95 (signed copy w/inscription)


Daily Dose of Direction
for Women in Business
Co-Author: Shonette Charles

$12.00 (signed copy w/inscription)

Signed Copies and Discussion Guide
If you would like a free autographed bookplate to put in your book, send your address to
shonette@shonettecharles.com
with the subject: Bookplate. I will mail one to you!
Want an autographed copy of the books?
Click here
.
Winner Takes All (Breaking into the Black Elite Book 3)
Shonette Charles, bestselling author of NAIL IT: Breaking into the Black Elite and GAME ON, is back with another novel filled with drama, suspense, and a generous sprinkling of humor, as she pulls back the curtain on this world where ladies lunch, expensive toys are the norm, and socialites reign supreme.

Finally, Sahara Kyle has made it. When her family moved to North Carolina, she had difficulty navigating the Black bourgeoisie circle, which is governed by the most powerful movers and shakers holding membership in private social clubs and Black fraternities and sororities. But, the Kyles are ready to reclaim their throne as a Black power couple on the rise. Noah's issues at the bank are a distant memory, and his swagger is back. Sahara's icy relationship with arch nemesis Emery has thawed, as they cash in their frenemies title for the new one of sisters. And, after standing in the shadows, Sahara is ready to take center stage. As a member of one of the area's most exclusive social clubs, she now has the influence to climb to the next level.

​However, what goes up must come down, and Sahara quickly learns that money and flash mean nothing when the old guard closes rank. Yet, in a town overflowing with secrets, sometimes it isn't about whom you know but knowing where the bones are buried. There can only be one queen bee in Fairchester, but does Sahara have what it takes to get the crown because it is WINNER TAKES ALL.
GAME ON (Breaking into the Black Elite Book 2)
a compelling story of power, loyalty, and betrayal"
"If you like drama, suspense, and some great humor sprinkled in, then this book is for you."
"The plot twists and turns on a fun roller coaster ride...."
​"If you want to know what happens behind the glitz...then you'll definitely be entertained."
​"You can't help but get pulled into the drama....When you pick up GAME ON, you will have a hard time putting it down."
​You first met the world of Fairchester's movers and shakers, where money will only get you so far and pedigree is key, in NAIL IT: Breaking into the Black Elite. In this sequel, Noah Kyle, who is handsome, educated, and the first black senior vice president at First Southern Bank, discovers that everything that glitters isn't always gold as tension at the bank threatens the success he has worked so hard to obtain. Although he now has little time to pressure his beautiful wife, Sahara, to join the city's powerful social circle--where ladies lunch, expensive toys are the norm, and it isn't about what you know but rather whom—her new friend, Teri, happily steps in where Noah left off and picks up the cause. The friends soon realize that the more things change, the more they stay the same, and Teri convinces Sahara and Zora that they should try to become members of one of Fairchester's most exclusive social clubs.
​
However, Sahara quickly learns that gaining membership in this tight-knit circle is not child's play, and the process may be stacked against her. Not only does it seem that half of Fairchester is seeking the coveted membership--including her nemesis, Emery Edmonds, a sophisticated socialite on the rise--but Sahara will have to go head-to-head against her friends. The stakes couldn't be higher as alliances are made, loyalties are tested, and old secrets threaten to come to light. But, in these circles, if Sahara wants a seat at the table, she has to play to win, because it is GAME ON.
NAIL IT: Breaking into the Black Elite (A Novel)
Black, educated, and possessing all the right stats, Sahara and Noah Kyle move to North Carolina ready to break into the area's black bourgeoisie social circle. This is a world governed by black socialites and movers and shakers, who hold membership in the Sphinx, the Darlings, the Shield, Belles & Beaus, and the black fraternities and sororities. Being in the right circle could position the Kyles for even greater affluence, but being shut out could be the death knell for more than just their social life.

Noah appears to quickly catch his stride, but Sahara struggles navigating this world of pearls, poise, and protocol. The sky's the limit, but will secrets, lies, and double crossings keep them on the outside of this high power network looking in? Or, when it comes to entering the world of the black elite, do they have what it takes to NAIL IT?

Daily Dose of Direction of Women in Business
Wall of Readers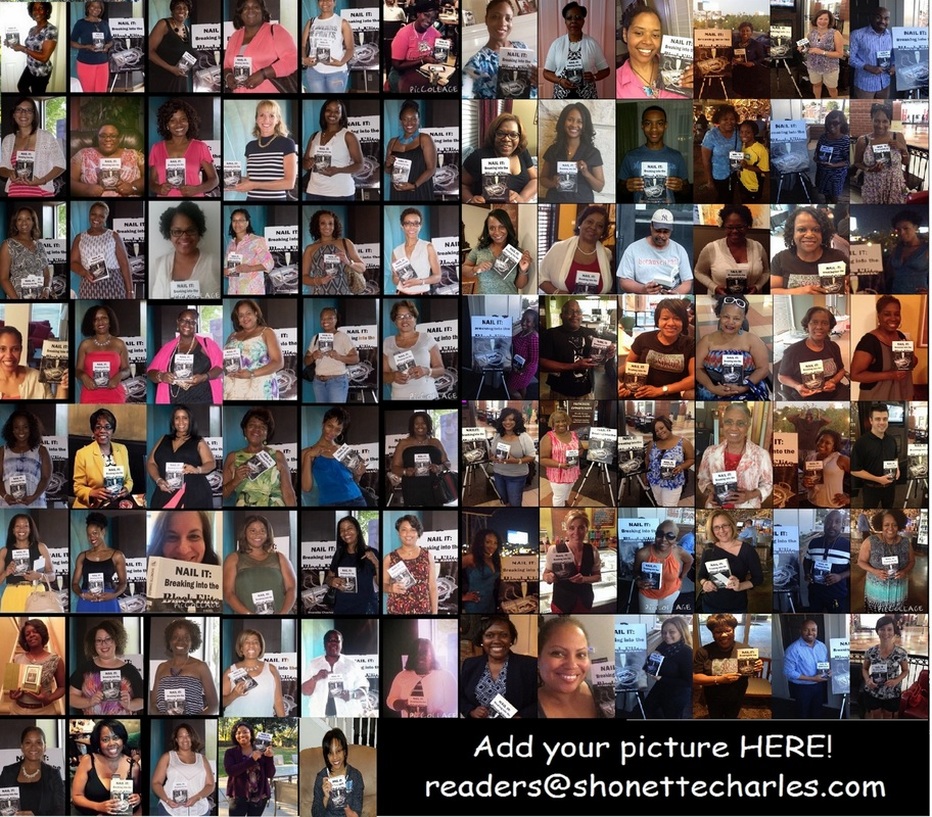 ---
| | |
| --- | --- |
| Sign-up for the NAIL IT: Breaking into the Black Elite newsletter to receive updates, book excerpts, and behind-the-book information. | |